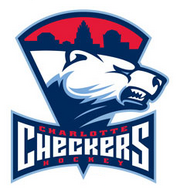 The
Charlotte Checkers
are an American ice hockey team in Charlotte, North Carolina, playing in the ECHL (formerly the East Coast Hockey League).
Official Charlotte Checkers Website: http://www.gocheckers.com/
Franchise History
Edit
The Checkers were founded in 1993 and played from then until 2005 in Cricket Arena. In 2005, they moved to St. Lawrence Homes Home Ice at Time Warner Cable Arena. The team set their all time attendance record of 11,237 on February 10, 2007 in a 6–3 loss against the Texas Wildcatters. Their previous record was 10,894 in a win against the Florida Everblades in November 2005. As of February 20, 2007, they are second in the ECHL in attendance, increasing their attendance by 45% over their inaugural season at Charlotte Bobcats Arena. Many people claim that the new arena is part of the reason for increased attendance as well as an increased interest in hockey in North Carolina due to the in-state NHL 2006 Stanley Cup champions, and also the influx of northern transplants into the Charlotte region. However, it should be noted that Charlotte's minor-league hockey influence is much older, dating to 1956, when the Eastern Hockey League's Baltimore Clippers moved to Charlotte after a fire destroyed part of the Baltimore team's arena. They played games in the Charlotte Coliseum (now Cricket Arena) for the balance of the season. The team decided to stay in Charlotte, adopting the Checkers nickname in 1960. The team joined the EHL's other Southern franchises in forming the Southern Hockey League in 1973, where it played until the league's demise in 1977.
The current Checkers are named for the teams of the past, and for years were known for an orange and electric blue checkerboard pattern logo. However, it is possible that the Checkers name comes from the hockey term "checking".
Season-by-Season Record
Edit
Records as of 2007-08 season.
Season
League
Division
GP
W
L
T
OTL
SOL
PTS
PCT
GF
GA
PIM
Coach(es)
Result
1993–94
ECHL
East
68
39
25
4
1
3
82
0.574
281
271
1519
John Marks
Lost in round 1
1994–95
ECHL
East
68
37
22
9
4
5
83
0.544
274
261
1949
John Marks
Lost in round 1
1995–96
ECHL
East
70
45
21
4
-
4
94
0.643
294
250
2251
John Marks
Won Championship
1996–97
ECHL
East
70
35
28
7
-
7
77
0.550
271
267
1799
John Marks
Lost in round 1
1997–98
ECHL
Southeast
70
35
24
11
-
11
81
0.579
251
237
1662
John Marks
Lost in round 2
1998–99
ECHL
Southeast
70
29
30
11
-
11
69
0.493
221
262
1264
Shawn Wheeler

Out of Playoffs

1999–00
ECHL
Northeast
70
25
38
7
-
7
54
0.357
186
254
1680
Shawn Wheeler
Don MacAdam
Out of Playoffs
2000–01
ECHL
Northeast
72
34
26
12
6
6
80
0.556
247
252
1416
Don MacAdam
Lost in round 2
2001–02
ECHL
Northeast
72
41
20
11
3
8
93
0.646
256
207
1599
Don MacAdam
Lost in round 2
2002–03
ECHL
Northeast
72
41
28
3
3
0
85
0.590
262
234
1735
Don MacAdam
Out of Playoffs
2003–04
ECHL
Southern
72
31
32
9
4
5
71
0.493
206
230
1460
Don MacAdam
Derek Wilkinson
Out of Playoffs
2004–05
ECHL
East
72
39
26
7
2
5
85
0.590
226
219
1301
Derek Wilkinson
Lost in round 3
2005–06
ECHL
South
72
33
34
5
2
3
71
0.493
232
254
1634
Derek Wilkinson
Lost in round 3
2006–07
ECHL
South
72
42
27
3
1
2
87
0.604
252
220
1546
Derek Wilkinson
Lost in round 2
2007–08
ECHL
South
72
34
31
7
1
6
75
0.472
212
219
1276
Derek Wilkinson
Lost in round 1
Note: GP = Games played, W = Wins, L = Losses, T* = Ties, OTL = Overtime Losses, SOL = Shootout Losses, PTS = Points, PCT = Winning Percentage, GF = Goals for, GA = Goals against, PIM = Penalties in minutes -T* Includes Overtime and Shootout Losses(Games tied at end of regulation went directly to shootout from 1995-2000)
Team Records
Edit
Single Season
Edit
Goals: 48 Sergei Berdnikov (1993-94)
Assists: 61 Matt Robbins (1994-95), Scott King (2000-01), Kevin Hilton (2000-01)
Points: 101 Scott King (2000-01)
Penalty Minutes: 352 Eric Boulton (1996-97)
GAA: 2.43 Scott Meyer (2003-04)
SV%: .923 Scott Meyer (2003-04), Jeff Jakaitis (2008-09),
Wins: 32 Nick Vitucci (1995-96)
Shutouts: 3 Scott Meyer(2003-04), Alex Westlund(2006-07)
Goaltending records need a minimum 25 games played by the goaltender
Career Goals: 174 Darryl Noren
Career Assists: 229 Darryl Noren
Career Points: 403 Darryl Noren
Career Penalty Minutes: 213 Steve MacIntyre
Notable Players
Edit
Dusty Jamieson
Eric Cairns
Darryl Noren
Eric Boulton
Peter Worrell
Jason LaBarbera
Antti Laaksonen
Daniel Girardi
David Oliver
Joe Zappala
Retired Numbers
Edit