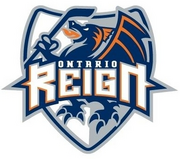 The Ontario Reign are a minor league ice hockey team from Ontario, California that play in the ECHL. Their home arena is the Citizens Business Bank Arena. They are the affiliate team of the Los Angeles Kings of the National Hockey League.
Official Ontario Reign Website: http://www.ontarioreign.com/
On February 26, 2008, it was announced that the Reign will be the relocated Texas Wildcatters, as the team was unable to secure an arena lease. This has been confirmed not to be true.
The name is derived from an abstract noun related to royalty. Its name follows the pattern the Kings have established with two other affiliates: the Manchester Monarchs and secondary ECHL affiliate, the Reading Royals. The name was chosen from a contest held by the team's website, where over 600 entries were submitted. Mike Brewster of Fontana, California submitted the winning entry.
The team's logo was unveiled on March 17, 2008.
During the 2008–09 season, the Reign had a total attendance of 210,801 at 36 home games. This was an average of 5,856 per game, making it second highest in the league.
The Reign captured the regular season championship banner when they finished first in the Pacific Division. They lost in round one of the playoffs to the Stockton Thunder. Three players made the all-star team Tim Kraus, Geoff Walker and Jeff Zatkoff. Coach Taylor finished 2nd in the Coach of the year race based on votes by his peers.