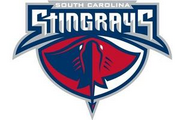 The
South Carolina Stingrays
are an ECHL team based in the city of North Charleston, South Carolina, a suburb of Charleston. Since 2004, the team has been affiliated with the Washington Capitals of the National Hockey League. The Stingrays found success early with an average attendance of over 10,000 fans a game in the early years. Currently, the Stingrays average 5,000 per game, occasionally selling out (10,540) for military night games that are usually played with rivals.
The Stingrays play their home games at the North Charleston Coliseum.
The ECHL team began in 1993 with an ownership group which included Marcel Dionne, but was sold shortly afterwards to a local investment group led by Edward Pearlstine, owner of Pearlstine Distribution, the owner of the local Budweiser Distributor.
Official South Carolina Stingrays Website: http://stingrayshockey.com/
The Stingrays are the current ECHL Kelly Cup Champions. The 2009 championship, won following a seven-game final against the Alaska Aces, along with championships in 1997 and 2001, tie them with the Hampton Roads Admirals for the most Kelly/Riley Cup wins in league history. Alongside the Idaho Steelheads, they are one of only two active ECHL teams to win multiple league championships. They are also the first ECHL team and one of three overall to win both a regular season and postseason championship in the same year, with the Alaska Aces (2006) and Cincinnati Cyclones (2008) later accomplishing the feat.
Their current mascot is CoolRay, a stingray that resembles the previous Stingrays logo used from 2000–2008.
Retired Numbers
Edit
12 - Mark Bavis, who played from 1994–96 when the Stingrays were an affiliate of the Buffalo Sabres. Bavis, by then a Los Angeles Kings scout, was killed along with Kings Director of Professional Scouting Garnet Bailey on United Airlines Flight 175 when Al-Qaeda terrorists hijacked the airliner, and steered it towards the World Trade Center on September 11, 2001. The Stingrays retired his jersey before the start of the 2001–02 season.
14 - David Seitz, who played from 1996–2004 and was a popular forward on the franchise with team records in goals, assists, and points, including over 200 goals and 500 points overall, fifth on the ECHL's all-time assists list, and two ECHL Kelly Cups. Seitz's retirement, caused by an ECHL restriction on experienced players on a roster after the Stingrays signed players for a road trip, sent shockwaves through the community.
24 - Brett Marietti. A popular player and former captain, Marietti retired after the 2002–03 season, and management promptly retired his jersey in 2003. Marietti's Tenure as captain ranks among the longest in ECHL history for a player to captain a single team.
Quick Facts
Edit
Founded: 1993–1994
Arena: North Charleston Coliseum (capacity 10,429)
Uniform Colors: navy blue, red
Logo design: A stylized stingray swimming upwards.
Affiliates: Washington Capitals (NHL), Hershey Bears (AHL)
Division Titles Won: 4 regular season (1994–95, 1996–97, 1997–98, 2000–01), 2 playoff (2007–08, 2008–09)
Regular Season Titles Won: 1 (1996–97)
League Championships Won: 3 (1996–97, 2000–01, 2008–09)