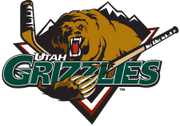 The
Utah Grizzlies
are a professional ice hockey team in the ECHL. They play out of West Valley City, Utah, United States, with their home games at the E Center.
Official Utah Grizzles: http://www.utahgrizzlies.com/
Franchise History
Edit
The current Utah Grizzlies franchise started as the Virginia Lancers, one of the founding members of the East Coast Hockey League. The franchise was under seven different names in five different southeastern cities from 1988 to 2003 when the Lexington Men O' War franchise suspended operations after one season. After the AHL incarnation of the Grizzlies suspended operations, David Elmore and Donna Tuttle bought the rights to the dormant Lexington Men O' War franchise and moved the team to the E Center to replace the previous Grizzlies franchise.
The market was previously served by:
Utah Grizzlies of the IHL and AHL (1995–2005)
Season-by-Season Record
Edit
Note: GP = Games played, W = Wins, L = Losses, T = Ties, OTL = Overtime losses, Pts = Points, GF = Goals for, GA = Goals against, PIM = Penalties in minutes
| | | | | | | | | | |
| --- | --- | --- | --- | --- | --- | --- | --- | --- | --- |
| Season | GP | W | L | OTL | Pts | GF | GA | Finish | Playoffs |
| 2005–06 | 72 | 36 | 30 | 6 | 78 | 235 | 236 | 4th, West | Lost in Division Semi-finals |
| 2006–07 | 72 | 22 | 42 | 8 | 52 | 184 | 294 | 5th, West | Did not qualify |
| 2007–08 | 67 | 32 | 30 | 10 | 74 | 239 | 259 | 4th, West | Lost in Conference Finals |
| 2008–09 | 72 | 28 | 28 | 16 | 72 | 220 | 246 | 4th, West | Lost in Division Semi-finals |
| 4 seasons | 283 | 118 | 130 | 40 | .487% | 878 | 1035 | 0 Division Titles | 0 Kelly Cups, 0 Brabham Cups |
Staff

Title
Staff Member
Head Coach
Kevin Colley
Assistant oach
Jeff Dwyer
Trainer
Mike Plandowski
Equipment Manager
Dave Summers